Are Book Award Contests Worth It?
A website called Reader Views http://www.readerviews.com/ gives out annual literary awards in a contest open only to writers who self-publish or have their books published by a small press, university press, or independent book publisher. Works published by major book publishers, their subsidiaries, or their imprints are not eligible. This seems more than fair, given that there are so many award contests that are not open to those of us whose books are self-published, subsidy-published, or published by small, indie publishers.
But does an award set up for the likes of us mean anything?
A few years ago, I was unpleasantly surprised when one of the list gurus on a self-publishing discussion group I belong to posted a comment calling the Reader Views Awards a Special Olympics for subsidy-published books—based on the fact that none of the award winners were books published by large publishers, which the guru took to mean the contest hadn't attracted any real competition. (Since books from major publishers are not eligible to enter the contest, it's not surprising that no winners were from major publishers.) This post went on to criticize the contest for having too many award categories and too many winners, and dubbed it primarily a moneymaker for the sponsor because it charges an entry fee. The guru concluded that the award is hardly of the quality of a Pulitzer Prize or National Book Award (duh!) and that being the "best of the worst" is hardly impressive.
I am familiar with this view of book awards that are open to self-published or indie-published authors like me. My first novel, Too Near The Edge, won an IPPY award, which I discovered is also considered second-rate when I tried to use it to get "author status" at the Left Coast Crime (LLC) Convention. I wrote them a very polite email asking if my award would qualify me to be an author at their conference. They replied that awards like the IPPY are not on their list, "since they are primarily awarded to authors from non-traditional publishing houses."
Given these attitudes, is it worth sending off our books and entry fees to competitions designed to honor the best among self-published books or those published by small, independent presses? Yes. In my opinion the awards have meaning. For me the IPPY was an acknowledgement that a reader or readers selected to judge a book contest decided my book was of a high enough level of quality to win an award. And, although the contest had many categories, it also had thousands of entries, most of which did not win. I don't know the statistics for these other contests, but it seems likely that there are more losers than winners, and that awards are only given to books that meet certain criteria.
The IPPY helped me get my book into local independent bookstores, where I believe the award stickers give it credibility that leads to sales. And the mention of the award on the book's Amazon page and other eBook sites reassures potential readers who have never heard of me that a group of judges found my novel worthwhile. Awards help books stand out from the pack. And most potential readers will give a book a second look if it has won an award—even if the award is a minor one.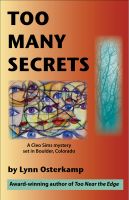 Lynn Osterkamp is the author of Too Near the Edge, and its sequels Too far Under, and Too Many Secrets--the mystery novels that gave life to Cleo, a Boulder-based grief therapist whose ability to contact dead people gets her involved in solving a murder; and Tyler, a dead surfer dude who gives Cleo cryptic and often inscrutable advice. Too Near the Edge won a silver medal in the 2007 IPPY Book Awards for best regional fiction in the west-mountain region.
Lynn is also the author of two nonfiction books as well as numerous articles, manuals and national newsletters. Her professional experience includes hospital and hospice social work, university teaching and research, special education, and long-term-care ombudsman. She lives in Boulder Colorado, where she works for Boulder County Aging Services.
Connect
with Lynn Osterkamp on
Twitter