3 Top Tips for Authors
1) How to Make Your Characters Believable
Spend more time living as the character and not just writing about them. the more you become the character the more believable they become. I put myself in the story and during my writing I live like them and I allow my living like them to flow in my writing.
2) Why Book Covers are So Important
Book covers are so important because lets be honest people are visual and no matter how great the information or story is inside the cover people will always judge the book by its cover!
3) How to Network Online to Promote Your Book
Use pictures of reviews from tweeter or facebook and upload them encouraging people to buy your book. This is worked so much for me because its the words and face of others talking about your book. Many times people go buy it just because someone else has read it.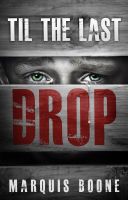 Marquis Boone is a pastor, motivational speaker, author, entrepreneur, mentor and spiritual advisor to a host of celebrities. Marquis is the Lead Pastor of Fresh Start Church which exists to revive, refresh, release and restore people back to God. He has been deemed one of America's most influential and talented pastors in his generation. His message of resurrection, healing and restoration is unparalleled and transcending cultural barriers within the church. Boone holds a Master of Arts in Christian Leadership and Masters of Divinity from Luther Rice University. He studied at World Harvest Bible College and completed a Bachelor of Science in Business Administration with a minor in Management from American InterContinental University.
Buy Now @ Amazon & Smashwords.
More details about the author & the book